This article provides an easy-to-understand guide on postpartum depression (PPD). It explains what PPD is, its symptoms, and the different types like anxiety and stress disorders that new moms might face. The article gives practical tips on how to prevent PPD, like getting enough sleep and having a good support system. It also talks about ways to treat PPD, including medication and therapy. Real stories from moms who've been through PPD are shared, showing that recovery is possible. The article is useful for new moms or anyone wanting to learn more about PPD in a simple, clear way.
Introduction & Definition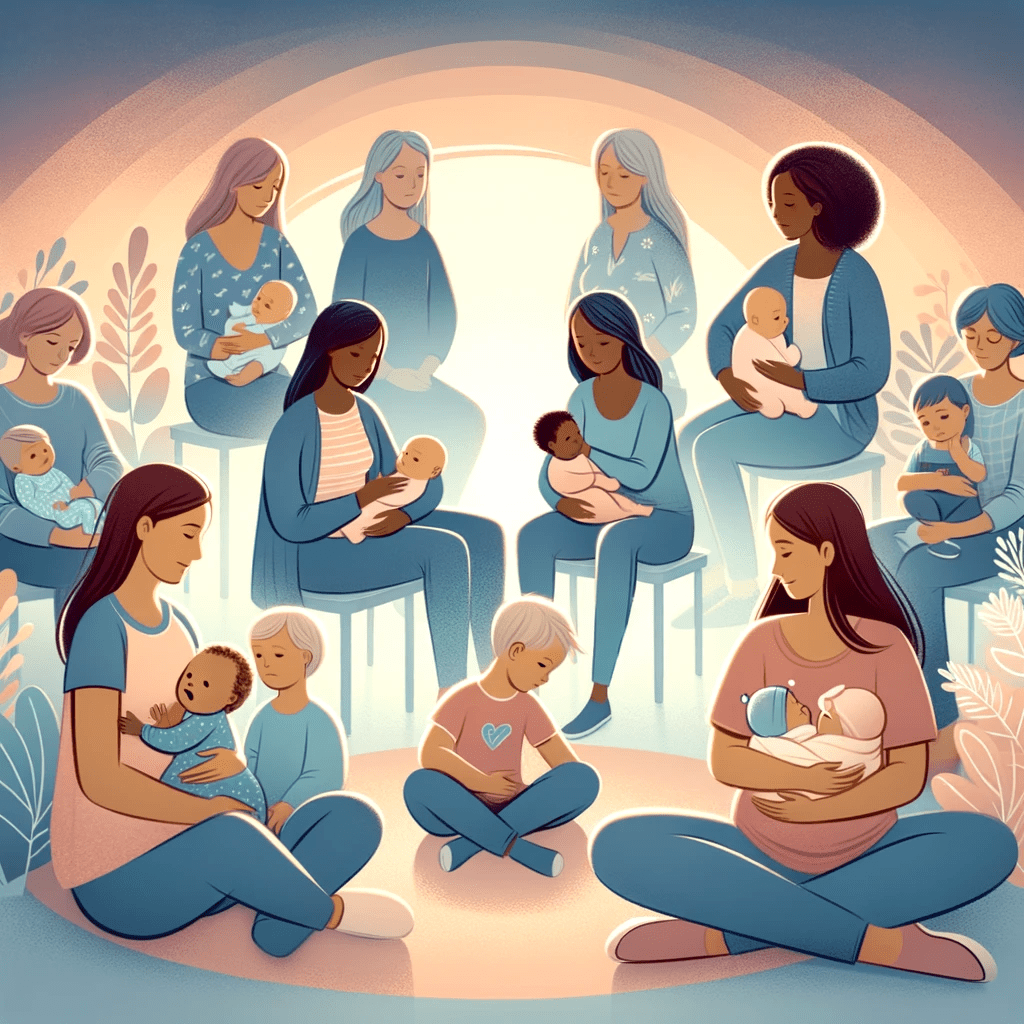 Postpartum depression (PPD) is a mental health condition that affects many new mothers, characterized by a complex mix of emotional, physical, and behavioral changes after childbirth. Understanding PPD is crucial for both expecting and new mothers. This condition goes beyond the typical 'baby blues,' presenting a more profound and persistent form of emotional disturbance. In this comprehensive guide, we delve into the symptoms, prevention methods, and treatment options for PPD, aiming to provide support and knowledge to those navigating this challenging phase of motherhood.
Understanding Postpartum Depression
Symptoms, Types, Statistics and prevalence of Postpartum Depression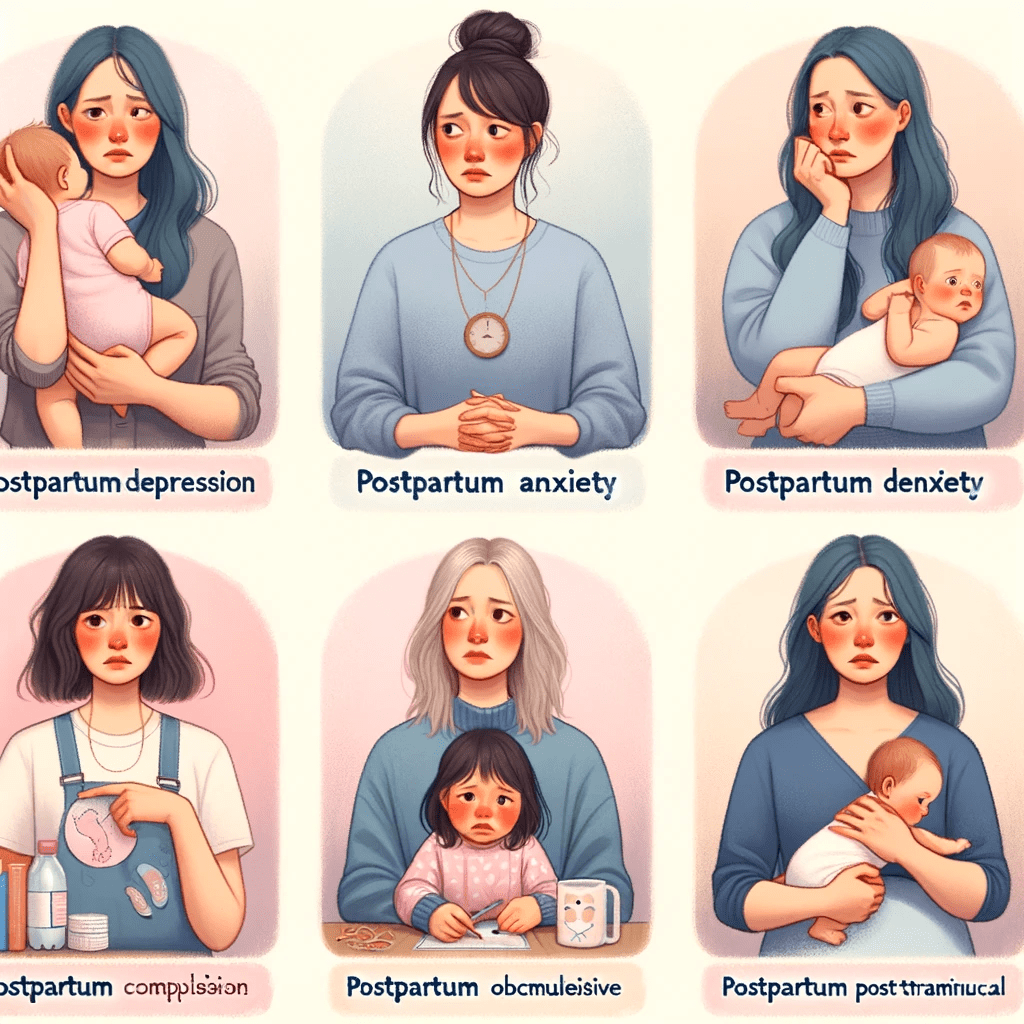 Postpartum depression (PPD) is a complex condition that varies in symptoms and intensity. About 15% of new mothers experience PPD, with symptoms ranging from fatigue and feelings of sadness to severe mood swings and loss of interest in activities. It's essential to recognize these signs early as they can last over two weeks and significantly impact a mother's well-being​ ​["].
PPD is not a singular entity but a part of a spectrum of postpartum mood disorders. This spectrum includes:
Understanding these different forms of postpartum mood disorders is vital for early detection and effective management. In the next section, we'll delve into the methods to prevent PPD, offering strategies that can be employed even before the onset of symptoms.
Methods to Prevent Postpartum Depression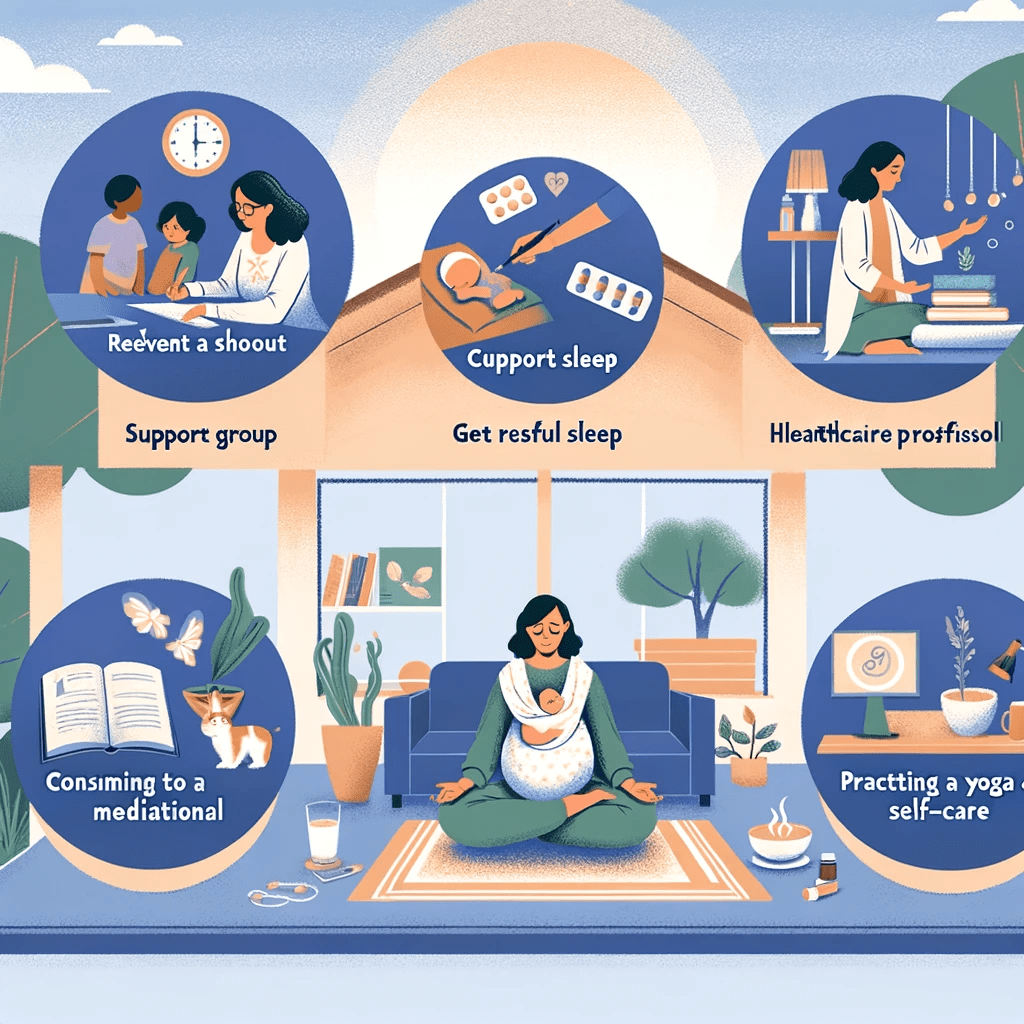 1. Community Support
Having a strong support system is crucial for new mothers. The presence of friends, family, or even virtual communities can greatly enhance a mother's well-being during the postpartum period. In many cultures, living with parents or having them move in during the initial months is a common practice. For those without this option, online support groups offer a valuable resource​​​​ ["] ["].
2. Adequate Sleep
Sleep deprivation significantly affects mental health. New mothers often face disrupted sleep patterns, making it vital to seek help for childcare to ensure better rest. Partners, friends, and family can play a significant role in providing support to allow new mothers to get the sleep they need​​ ["].
Several studies have examined the relationship between sleep quality during and after pregnancy and the risk of developing PPD:
3. Seeking Professional Help
Early diagnosis and treatment of postpartum depression are essential. Treatment typically involves a combination of medication and therapy, and reaching out for professional help as soon as symptoms are recognized is crucial for effective management​​​​ ["] ["].
4. Adhering to Treatment Plans
For those with a history of depression or undergoing treatment during pregnancy, continuing prescribed medications or therapies is important. Many antidepressants are safe to use throughout pregnancy and breastfeeding​​ ["].
5. Self-Care
Engaging in self-care activities during and after pregnancy is vital. This includes relaxation techniques, maintaining a healthy diet, and staying physically active​​.
6. Preparation for Motherhood
Preparing mentally for motherhood can alleviate the risk of PPD. This can involve discussing concerns with a partner, working with a therapist, reading parenting books, or attending prenatal classes. Addressing doubts and concerns pre-emptively can instill confidence in new mothers​​.
In the next section, we'll discuss the treatment options available for PPD, providing a comprehensive understanding of how these methods aid in recovery.
Treatment Options for Postpartum Depression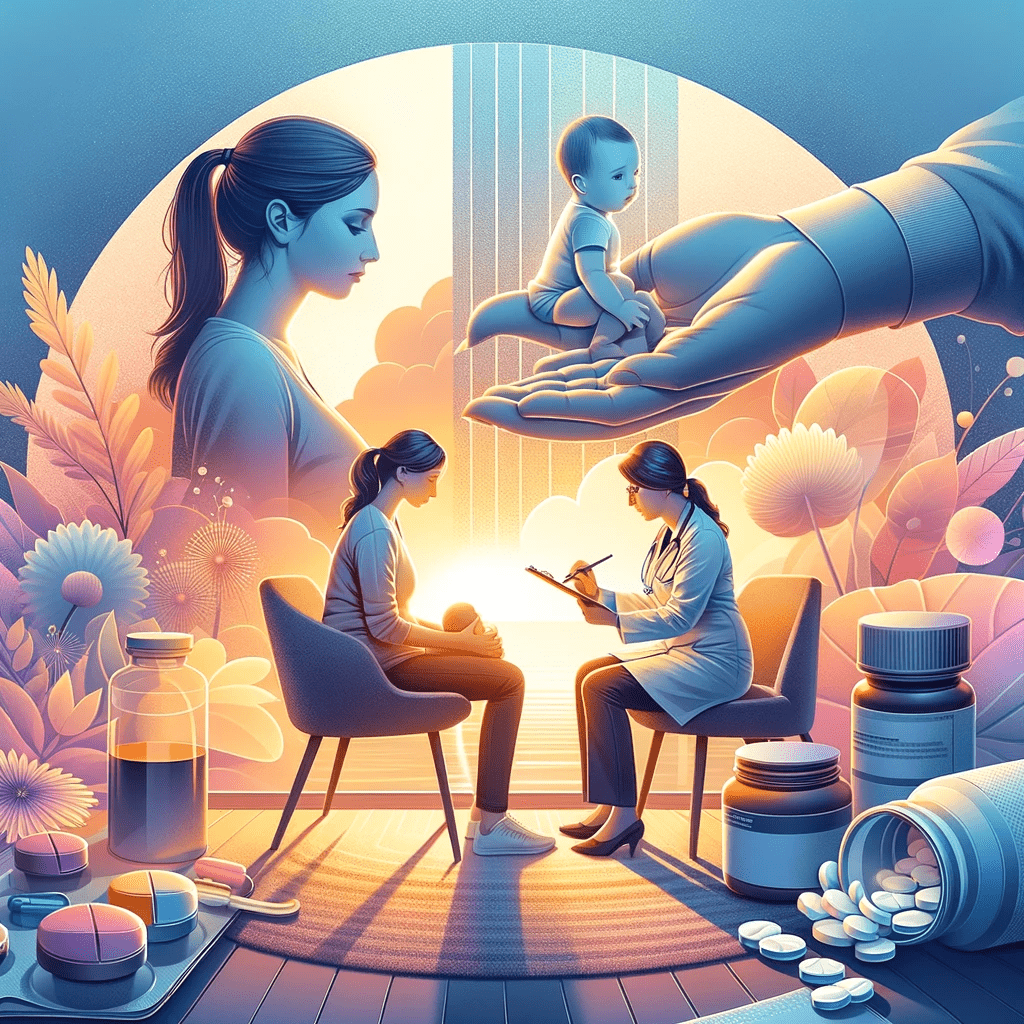 Medication
Medication, particularly antidepressants, plays a crucial role in the treatment of PPD. These medications help to balance the chemicals in the brain that affect mood and emotions. It's important for new mothers to discuss medication options with their healthcare provider, especially when breastfeeding, to ensure the safety and well-being of both mother and baby.
Therapy
Therapy, particularly cognitive-behavioral therapy (CBT) and interpersonal therapy (IPT), has proven effective in treating PPD. These therapies help mothers process their experiences, cope with the changes in their lives, and develop strategies for managing their emotions and thoughts.
Combination Treatments
Often, a combination of medication and therapy is the most effective treatment for PPD. This holistic approach addresses both the biochemical and emotional aspects of the condition, providing a comprehensive treatment plan.
In the next section, we'll present personal stories from individuals who have experienced PPD, offering insights and real-life perspectives on dealing with this condition.
Personal Stories and Experiences with Postpartum Depression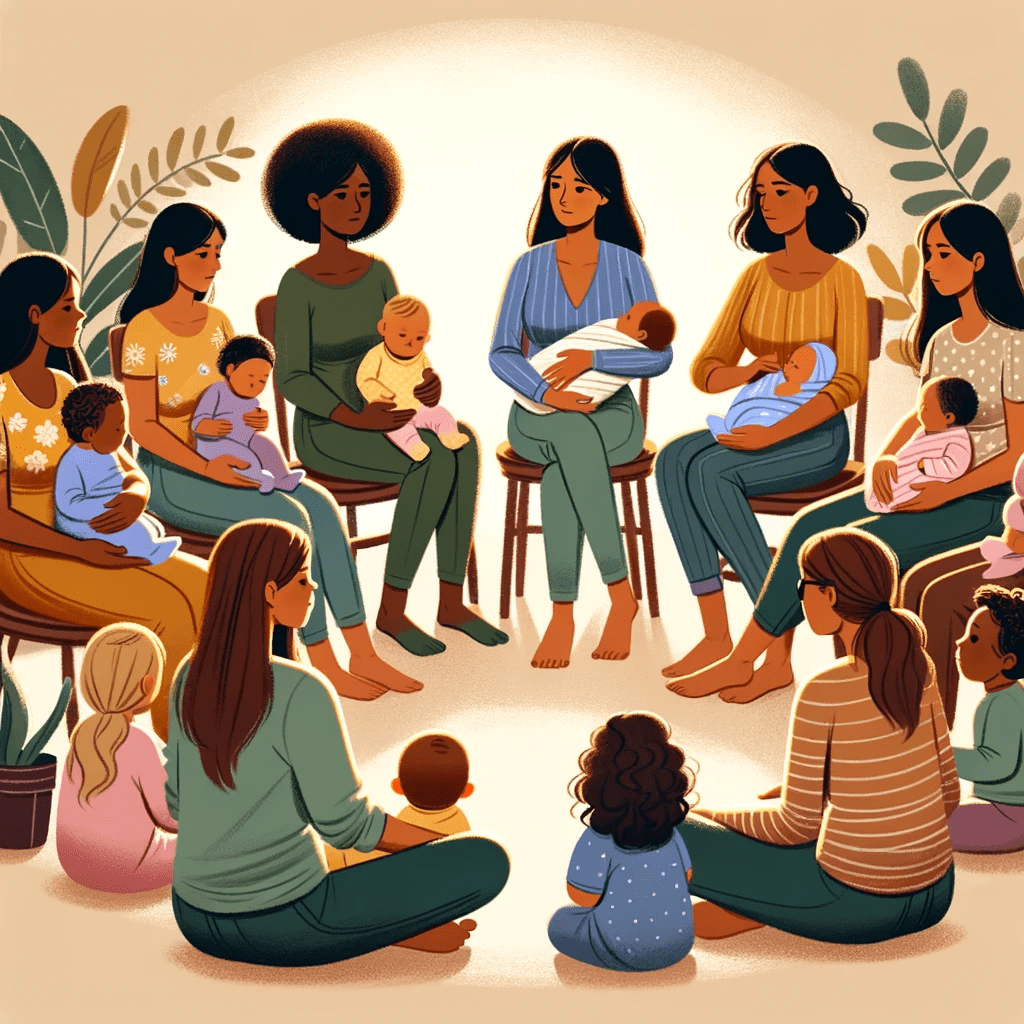 In this section, we present personal narratives from individuals who have experienced postpartum depression. These stories are a crucial part of understanding PPD, as they offer real and diverse perspectives. They highlight the challenges, the emotional journey, and the path to recovery, providing both insight and hope.
Here are real-life experiences from individuals who have faced PPD, providing a more in-depth and personal understanding of the condition:
These stories provide a window into the varied and personal experiences of PPD, underscoring the importance of recognizing symptoms, seeking help, and the effectiveness of different treatment methods. Another PPD of famous celebrity can b found here.
Hotlines for Immediate Assistance:
National Postpartum Depression Hotline: Provides support and resources for postpartum depression and related mood disorders.

Contact: 1-800-PPD-MOMS (1-800-773-6667)

Crisis Text Line: Offers 24/7, confidential text message support for those in crisis, including new mothers experiencing PPD.
SAMHSA's National Helpline: Substance Abuse and Mental Health Services Administration offers general mental health information and treatment referral.

Contact: 1-800-662-HELP (4357)
Professional Healthcare Contacts for Ongoing Support:
Postpartum Support International (PSI): Provides direct peer support to families, training to professionals, and a bridge to connect them.
American Psychological Association (APA) Psychologist Locator: A resource for finding psychologists in your area, many of whom specialize in maternal mental health.
Office on Women's Health: Offers information on postpartum depression and a helpline for more resources.
Remember, while these resources provide immediate and ongoing support, they should not replace the advice of a healthcare professional. Always consult with a healthcare provider for personal medical advice and treatment plans.
Conclusion
In this comprehensive guide, we have explored the complexities of postpartum depression (PPD) and its various forms, including Postpartum Anxiety (PPA), Postpartum Obsessive-Compulsive Disorder (PPOCD), Postpartum Post-Traumatic Stress Disorder (PPTSD), and Postpartum Psychosis (PPP). The real-life stories shared highlight the diverse experiences of mothers battling PPD, offering insights into the challenges and the paths to recovery.
The key takeaway is that PPD is a common and treatable condition. Early recognition of symptoms, seeking professional help, and having a strong support system are crucial steps toward recovery. Medication, therapy, and self-care are effective treatment strategies, and personal experiences emphasize the importance of not hesitating to seek help.
PPD can be an isolating experience, but it's important to remember that you are not alone. There is hope, and with the right support and treatment, recovery is possible. If you or someone you know is experiencing symptoms of PPD, we encourage you to reach out for professional help.
FAQs
What are the symptoms of postpartum depression?
Symptoms include fatigue, feelings of sadness, anxiety, irritability, changes in sleep and eating patterns, and difficulty bonding with the baby.
Can you prevent postpartum depression?
While not entirely preventable, risk factors can be mitigated through strategies like building a support system, maintaining good sleep hygiene, and practicing self-care.
Is it possible to have PPD after a second or third child if you didn't experience it with your first?
Yes, PPD can occur after any pregnancy, regardless of previous experiences.
How long does postpartum depression typically last?
The duration varies, but with treatment, many women start to see improvements within a few weeks, though full recovery may take longer.
Are there any risks to taking antidepressants while breastfeeding?
Some antidepressants are considered safe during breastfeeding, but it's important to consult with a healthcare provider for advice tailored to individual circumstances.
Is therapy effective for treating postpartum depression?
Yes, therapy, especially cognitive-behavioral therapy (CBT) and interpersonal therapy (IPT), is effective in treating PPD.
Can fathers experience postpartum depression?
Fathers can also experience postpartum depression, though it's less common.
What role does a support system play in recovering from PPD?
A strong support system can provide emotional and practical help, significantly aiding in recovery.
How can I help a loved one who is experiencing PPD?
Offer emotional support, help with childcare and household tasks, and encourage them to seek professional help.
Where can I find resources or support groups for PPD?
Resources can be found through healthcare providers, local hospitals, mental health clinics, and online platforms dedicated to postpartum health.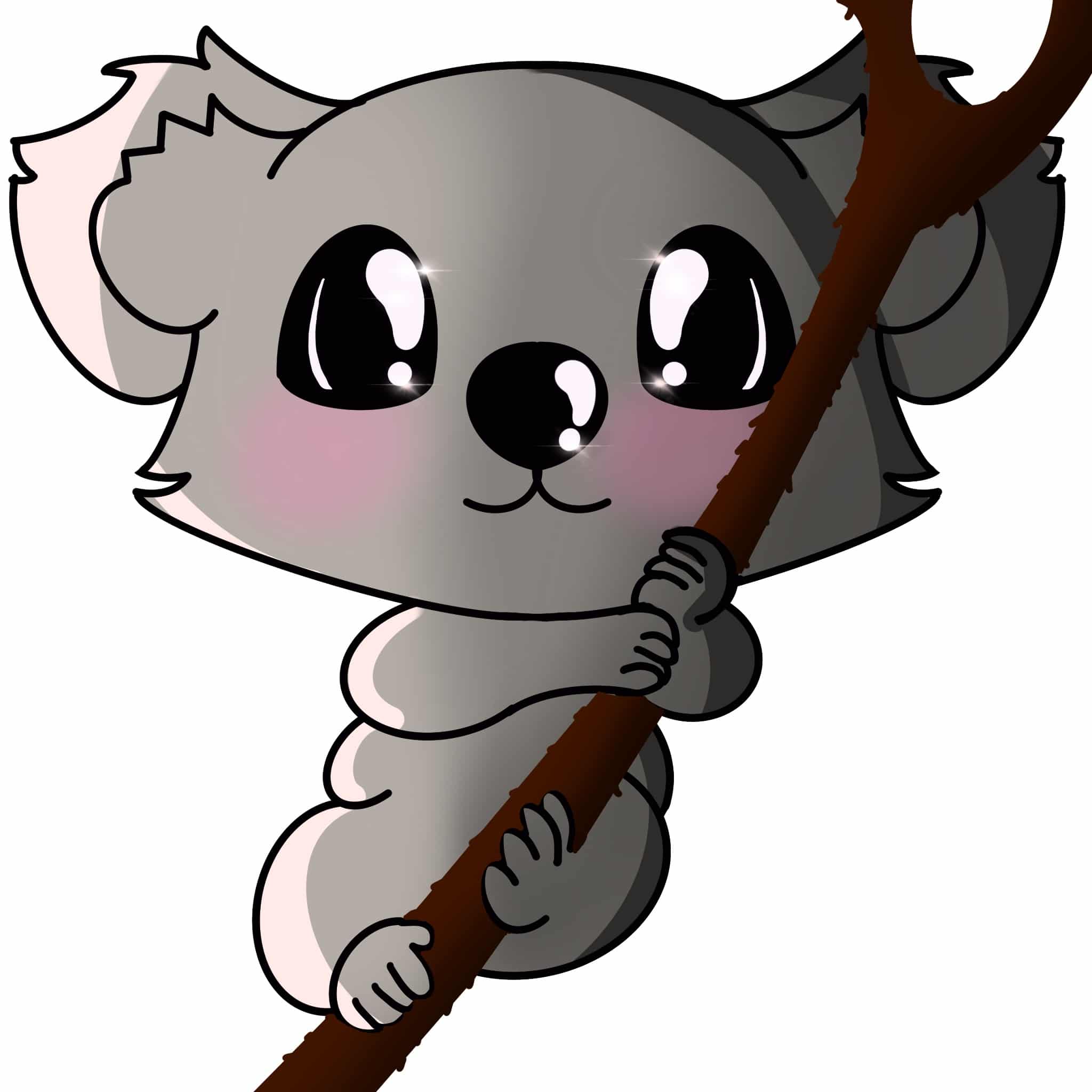 Meet 'Lazy Koala'
Hey there! I'm the 'Lazy Koala', but don't let the name fool you. I'm super passionate about writing and art. Here's a bit about me:
What I Do:
Writing: I love telling stories and sharing cool stuff about life, love, and everything in between. If you've ever felt a certain way or had a crazy thought, chances are I've written about it!
Art: When I'm not writing, I'm drawing. Each piece of art I create is like a piece of my heart on paper.
Cool Stuff About Me:
I started "Koala Tea Writes" to share my thoughts, stories, and art with awesome people like you.
Ever wondered why I call myself 'Lazy Koala'? It's because I believe in taking breaks and finding inspiration in the quiet moments.
Expertise:
Information Buff: Ever wondered about the stars, ancient civilizations, or the latest tech trends? I delve into informational writings of all kinds, breaking down complex topics into fun and easy-to-understand pieces.
Voice for Change: I'm not just about facts; I'm about feelings too. I pen motivational writings on a range of social issues, aiming to inspire change, spread awareness, and ignite passion.
Product Guru: Whether it's the latest sports gear, must-have beauty products, or the coolest tech gadgets, I've got you covered. I review all kinds of products, giving you the lowdown on what's worth your time and money.
Chef-at-Heart: My kitchen is my playground! Discover food recipes of all kinds with me – from quick breakfasts to lavish dinners, from traditional dishes to modern twists, and from appetizing starters to delectable main courses.
Let's Chat: I'm all over social media! You can find me on Facebook, Instagram, Twitter, YouTube and Pinterest. I love hearing from readers, so don't be shy!
My Belief: I think everyone has a story to tell and a dream to chase. So, always spread love, find your happy moments, and go after what you love with all your heart. More About me?
Wanna Talk?: Got questions or just want to share something cool? Hit me up through the contact page on "Koala Tea Writes."